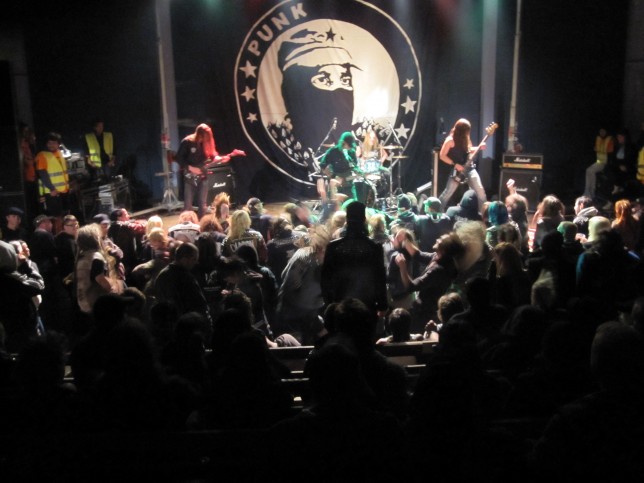 Midsommar in Punkedal
It's Friday 24th of june in Sweden which also means one of the most important events in the viking calendar. It's "midsommar" aka the celebration of the longest day of the year and the fertility of mother nature! Traditional Swedes dance around a huge pole symbolising a kind of penis penetrating the ground, while drinking enormous amounts of alcohol. Although this year we heard about "Punk illegal", a punk festival made to collect money for illegal refugees. This year the festival takes place, incidentally, during "midsommar" in the small and conservative village of Munkedal.
We met Karin working at the minigolf club just by the camping area:
I will tell you one thing; I don´t like it at all. The "midsommar" weekend is our best weekend of the whole year and now people are afraid to come here. It´s messy and so much trash over there. They ruin it for us. This night someone broke the window of our clubhouse! Well, we found out now that it´s probably a local talent who did it but i mean… and we were giving them electricity every year but now we thought that we have actually no reason at all to do that. So we turned it off. Because of this incident with the window. Last year someone stole one of our plastic ice-cream-men and carried it over to tha camping and trashed it. And the year before someone took one of the tables over there, you see the octagonal ones, and made a fire with it. I guess they were having a barbecue. Well, it´s not actually our tables, its the municipality´s, but still. I´m sure most of them are nice but there are always bad apples.
It's the fifth edition of the festival in Munkedal this year. So apart from the mini-golf fans there is surely someone out there who thinks it's ok to be invaded by punks over a weekend.
Bobi, owner of the local ICA supermarket:
Personally I think it´s damn fun to have them here. Then of course I know they got some complaints. But of course it´s nice that there are colorful people visiting.
The only bad thing is the littering. They move around in the center so it gets a bit messy. Cans, food leftovers and plastic bags that they think they can throw where they stand. But they are good kids, we never had problems. And i haven´t taken one single punk for shoplifting.
When I came here this morning there were four punks laying outside the store sleeping, i guess they were hungry and wanted to buy food and had no idea what time it was when they went here. Many of them are vegetarians so we bring in a lot of vegetarian stuff to the store that we don´t normally have, like tartex, hummus and tofu. I´m not quite sure what it is but they seem to like it. And we put up a table in the front of the store where they can buy coffee and sandwiches for breakfast.
After our chat, Bobi took some pictures of those colourful consumers. We took his picture and moved towards "the city center" to find out what the good-voting-people were thinking about all this.
Håkan
– I have never been down in the festival area myself but I have never noticed any trouble. I'm an old punk from Gothenburg myself so I think it´s fun. Actually I was thinking to go down there tonight and check it out a bit. I have grown up with Asta Kask and those bands so that´s the stuff of my youth. I work in the municipality now and when you listen to the people in charge there you notice that they think it´s fun too. It´s a boost for the community.
Morgan
– It´s a bit messy afterwards but it´s always clean again on the Monday after. I don´t know who´s cleaning but someone is.
Håkan
– You see that old people raise their eyebrows when they see the mohawks. Before, the punks were pacifists and now a lot of them are vegetarians so they are no troublemakers. The only fights i heard about is when local kids go down to the festival area and pick fights with the punks. Usually there is alcohol involved.
(Some punks walk by behind us and sing)
Håkan
– Yeah, that´s the spirit. You can´t walk around and be cranky. It´s supposed to be festival mood.
The sun is slowly setting over Munkedal and some hysteric drum echoes in the valley. As we follow the crowd of leather jackets, one question remains about that nearly perfect harmony between anarchists and that peaceful community.
Marlene, one of the festival organizers:
We had some complaints but he only incident today is that the minigolf-club cut the power because there was vandalisation, but that was not us. The minigolf-people are not thrilled that we are here i guess. They probably think it´s too close.
I mean Munkedal has the most swedish democrats (former nazi party that cleaned up) in all of west Sweden so i guess that has an influence. But basically people are positive and the municipality helps with everything. As soon as we have a problem they help out directly. They are a bunch of old men so they think it´s fun that people come and discover their little pearl. They probably think we can give them some kind of branding, that the festival makes Munkedal a bit edgy.