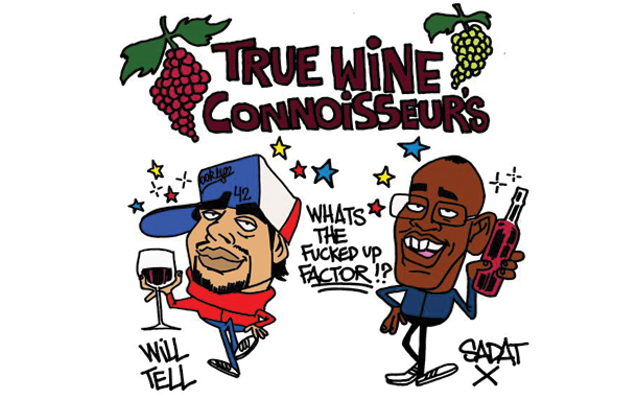 True Wine Connoisseurs
Everybody enjoys a good glass of wine and legendary rapper Sadat X is no exeption. Sadat and producer Will Tell is the guys behind the popular YouTube Series- True Wine Connoisseurs where Sadat rate different wines in his own special way. A lot has happened since the start of the show one year ago. Back then they bought their own cheap bottles from the liqourstore but they don´t need to do that no more. Nowadays they get wine by the case-load from producers all over the place. We had a chat with Sadat about his wine tasting skills and the hazards of drinking shady bottles of liquor you get in the mail.
Sadat, how did you and Will come up with the idea for True Wine Connoisseurs?
– Usually Will Tell and i drink Cognac during our recording sessions, but one day Will brought a bottle of wine to the session. He took out a flipcam and told me to bug out and make a wine commercial for fun. Will posted the video up on his Youtube channel and named it True Wine Connoisseurs. Tons of fans started hitting us up saying they loved it…and the rest was history!
So what´s up with The fucked up & The Toilet bowl factor? The more fucked up you get, the better the wine or what? Why not just stick to booze if you want to get drunk?
– The Fucked up Factor was a catch phrase i implemented to add some fun to the show, it basically breaks down the kick that a wine has. Some wine you can drink bottles and just be nice. Some fullbodied wines you can drink a few glasses and be ripped. The toilet bowl factor stands for the chance that you might go home and vomit if you drink too much of the wine. And the purpose of drinking the wine is not just to get fucked up, its to enjoy the juice. Drinking hard booze is a whole different element, thats sole purpose is to get ripped!
You talk a lot about visits from the yardman. In what way does weed effect the taste of the wine?
– The trees adds the perfect combo to get us in the recording mode. You have to realize that when we record the show we are always in the middle of a recording session.
One of our favorite episodes got to be the one where you get a bottle in a shoebox from a guy in Germany. Please explain to our readers what went down.
– The Shoebox from Germany arrived in my mailbox from a fan. The liquor was called Bullenschluck, it is a rum based drink with a very low alcohol content. What they do is add alot of different herbs to give it its potency. Will later researched it after i got sick and learned that it originated as a treatment for skin diseases in animals. Nowadays german kids drink it to simply get fucked up and this kid thought it would be amusing to see me drink it. NEVER AGAIN! Will has officially banned anything that is not from a corporation for our safety.
You seem to get a lot of support from different wineproducers. What do they have to say about the show?
– The support from the wine community has been overwhelming! Everyone loves my newly found passion for wine, and loves the fact that Will and i are merging together the wine community with the Hip Hop Community and at the same time bringing a lighter side to wine drinking.
Rappers always rap about liquor, beer, and champagne but you rarely hear someone talk about how they sip on a bottle of Pinot Noir or whatever. Why do you think it is that wine get so litte recognition in rapmusic?
– I guess the HipHop community see's the traditional winecritic as being real snooty and stuck up and that's not really the HipHop vibe. Another reason the show has been a success is because i now have dudes from the hood that would normally drink Hennessy drinking Zaccagnini.
How much have you learnt about wine since you started the show?
– I can instantly taste what is good wine from bad now, it may not be the way a traditional wine critic would but i know that after the wine opens up whether it is trash or something really nice. I have learned so much in this first year of the show, will and i actually just shot our pilot for TWC to become syndicated on a major network. The premis of the show is to travel the world and document me learning more and more about wine.
Sadat´s top three favorite wines right now:
1. John Joseph Ehlan Riesling – I drank this all summer and is a really refreshing wine.
2. Caymus Cab Sauv(ignon) – This became my shit during the DMC episode i now drink this with a nice steak meal all the time.
3. Last but not least i love the Zaccagnini Montepulciano d'Abruzzo – This was the first wine that really made me start digging wine!
Make sure you check out more episodes of True Wine Connoisseurs right here
Comments are closed.